LED Virtual
Production Studio
The future of filmmaking

Virtual Production is the latest trend. Star Wars – The Mandalorian, Oblivion, 1899 and many other productions rely on Virtual Production. 
The special feature of Virtual Production, compared to conventional green- and bluescreen shots, is that actors can immerse themselves into the scene locally, and are illuminated by the LED screen using interactive 3D real-time rendering technology and motion capture. The parallax shift, of a synchronised camera with the background, suggests a real depth effect for the scene. The perfect illusion is created by the natural blend of the foreground and background, due to the combination of parallax shift and the set lighting. This groundbreaking technology has revolutionised the production possibilities/stages for high-quality feature films and series. Artistic freedom is increased while production costs are reduced.
Virtual Production enables shooting conditions that are impossible in the real world. Such include sunrises lasting 12 hours or the rapid change from a hyper-realistic lunar landscape to an urban environment. LED walls bring VFX into the production stage while minimising the post production workload. On top of this virtual production enables savings in travel and set expense, since the virtualisation of sets– categories of the budget: The virtualisation of sets reduces the need to let cast and crew to travel on-location for shoots, as well as sets to be built and stored.
An example of a joint LED studio production by Ludwig Kameraverleih and Platige at our Warsaw location can be found here:
The Virtual Production Studio, located in Studio 10 on the Babelsberg studio lot and operated by ICT, enables previously unseen special lighting and image effects.
Film productions use the 500 sqm sound stage with up to 900 sqm of LED walls which can be flexibly arranged to create demanding high-value productions with high VFX content.
Some technical data: studio area 577 sqm with a working height of 7.5 m, heavy-duty studio floor: screed sealed, ancillary rooms (2 VIP rooms, production office and meeting room), air-conditioning, cooling ceilings, circumferential steel circulation for hanging green/bluescreen, green screen for VFX recordings, molton, mobile winch system with 16 C1 winches, various rigging tracks, alarm system and WLAN. Use of technologies from Unreal, Microsoft Azure, ARRI and other market-leading partners.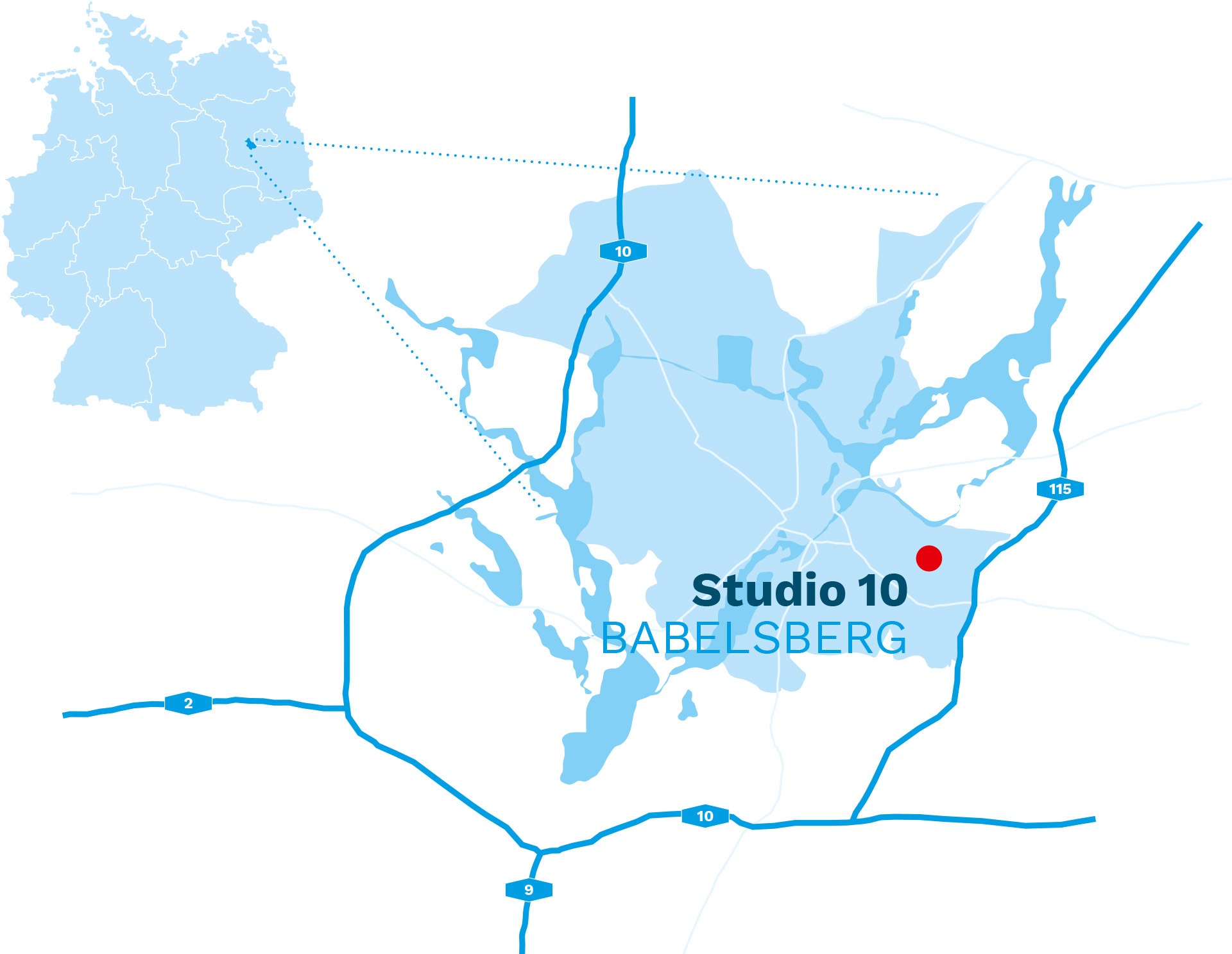 The Virtual Production Studio operated by ICT is located near the A115 highway ("Avus"), the driving time from Berlin-Mitte is about 40 minutes. Take the Potsdam-Babelsberg exit and follow Nuthestraße towards the city centre until you reach the Wetzlarer Straße exit (Medienstadt Babelsberg). Pass the car dealership on the right and then turn left towards Babelsberg. Cross the next intersection Großbeerenstraße / Wetzlarer Straße into August-Bebel-Straße. After another 500 metres you will see the main entrance to Studio Babelsberg on the left.