Ludwig Studio Berlin
Maximum scope with perfect infrastructure for your visions.

With almost 1,000 sqm of space, the Ludwig Studio Berlin offers the ideal room for almost any project. It has a room height of 11 m, a large covered vestibule and a truss system with pre-installed green screen (or optionally black molleton). Ludwig Studio Berlin is located between our rental for camera, lighting and stage equipment. Our know-how and equipment are always next door – no more waiting for add on equipment which is needed spontaneously. And after a successful day of shooting, the terrace on the Teltow Canal is at your disposal.
Some technical data: Studio area 930 m2, heavy-duty studio floor: sealed screed, truck access (gate: H: 3.80 m, W: 4.00 m), ancillary rooms (lounge/tea kitchen, make-up, 2 VIP rooms, production office and meeting room), curtain system (2 rails, colours green and black), truss system around the entire studio, power outlets with 63 A and 32 A and in future further wall connections with 63 A and 125 A, alarm system and WiFi.
We will gladly make you an individual offer, regardless of whether it is an advertisement, music video, a television series or film project of any kind.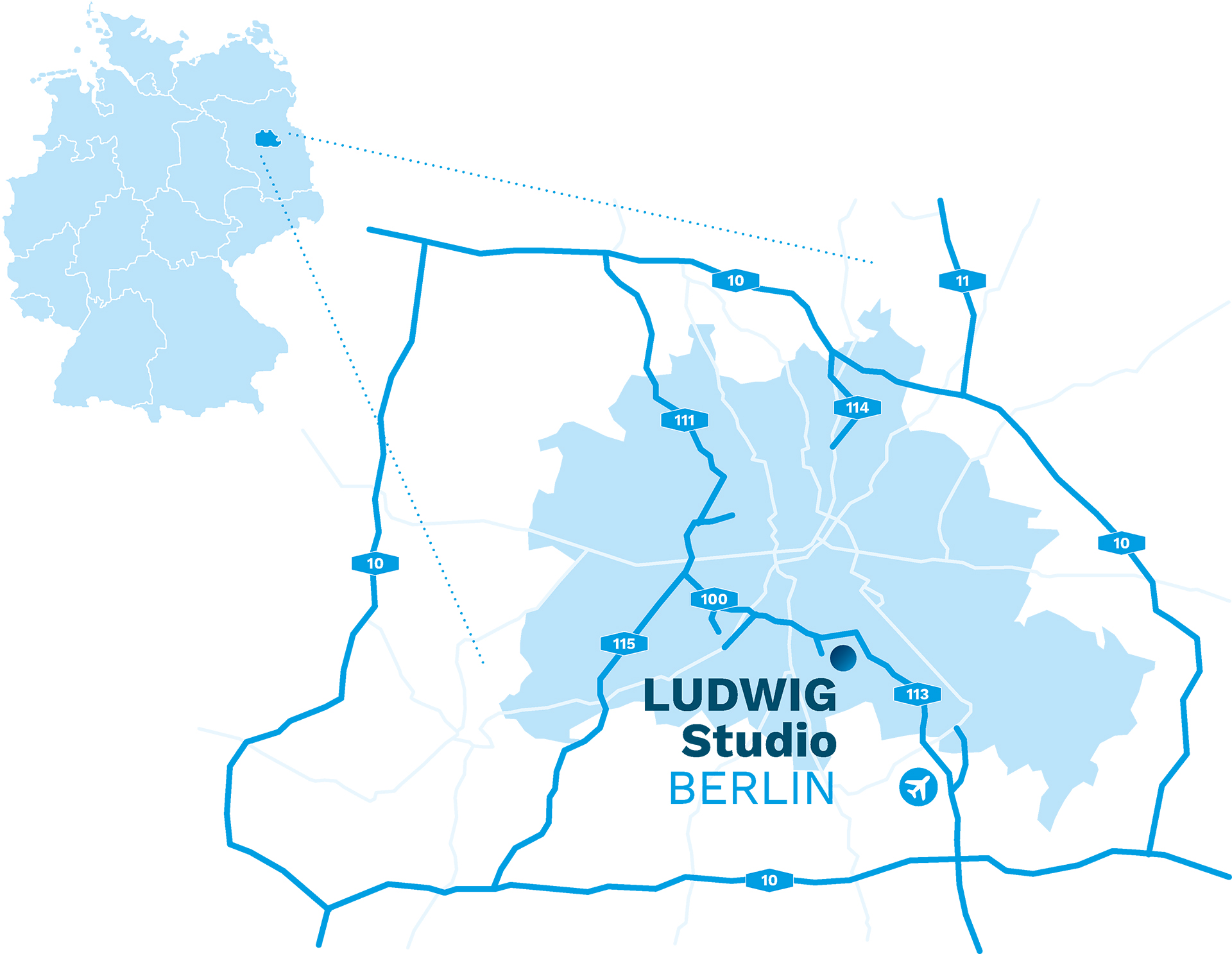 Ludwig Studio Berlin is located in the Tempelhof district with direct access to the rental companies Ludwig Kameraverleih and MBF Filmtechnik. Surrounded by spacious grounds with many parking spaces and open areas directly on the Teltow Canal, there is enough room for every project.
The studio is in imminent reach of the A100 motorway, Gradestraße exit.